Your Local Driveability Diagnostics Expert in Beresford, SD

D.A.D.'s Automotive Repair provides all our customers with high quality and dependable auto repairs in Beresford at reasonable prices. Our expert crew of ASE Mastertech Technicians have the training and skills to repair and maintain domestic and foreign vehicles of any make and model. We use state-of-the art diagnostics equipment and use only OEM (Original Equipment Manufacturer) parts on every vehicle (when available). Our main goal is to exceed customers' expectations on every auto repair service we perform. If you are looking for a dependable mechanic in Beresford for a serious problem or a simple oil change, contact D.A.D.'s today for all your car care needs.
General Maintenance
Oil Changes
Tune Ups
Shocks & Struts
AC Service & Repair
Cooling System Service & Repair
Brakes
Scheduled Maintenance
Belt & Hose Replacement
Tire Sales & Nitrogen Service
Diagnostics & Electrical
Battery Sales
Computer Diagnostics
Check Engine Light Diagnostics
Electrical System Troubleshooting
Computer Programming
Security System Troubleshooting
More Repair Services
Engine Repair
Transmission Service
CV Shafts
Chassis & Suspension
Drivability Diagnostics & Repair
Driveline Maintenance & Repair
Axle Replacement
Clutch Repair & Replacement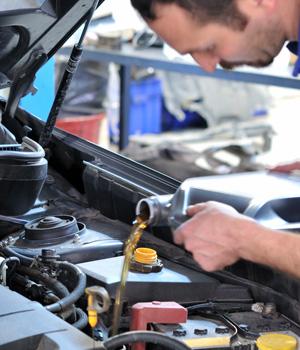 Tire Sales & Nitrogen Service
Tires are a very important part of any vehicle. From economy to safety, it is important to have a reliable and safe set of tires. We have a huge selection of quality brand name tires for cars, trucks and equipment of any year, make and model. In addition, we offer tire repair, rotation services, balancing and nitrogen services. Keep your family, friends and employees safe and save money with complete tire sales and service at D.A.D.'s Automotive Service.
Oil Changes
A vehicle's engine is a large assortment of moving parts that are always in constant motion. For vehicles to run properly, almost every component needs to be properly lubricated with specialty products. Motor oil allows these parts to move freely and do their job without causing friction. Changing motor oil on a regular basis is essential for a properly running engine and will increase the longevity of the engine. We use brand name quality motor oils and synthetics blends specifically designed to maximize performance on each individual engine.
Scheduled Vehicle Maintenance
When was the last time that you looked at the manufacturer recommended service or scheduled a regular maintenance appointment? In many cases, these important services get overlooked, are not performed and become way overdue potentially causing major damage. Our experienced technicians use advanced diagnostic tools, OEM parts and modern equipment to identify any correct any concerns that may arise. Some examples of regular maintenance are tune ups, fluid flushes, belt replacement, spark plug replacement and oil changes.
Computer Diagnostics & Troubleshooting
Vehicles today are equipped with sensors and other equipment that identify how the vehicle is operating. We'll identify and repair any issue quickly using the latest diagnostic equipment on the market. With this technology, we can accurately detect the cause of most mechanical and electrical issues with the vehicle. Our computer diagnostics identify any concerns and our skilled technicians can accurately address any repairs necessary, saving time and money for our customers. In some cases, diagnostic equipment cannot identify electrical problems. Our master technicians are experts in troubleshooting electrical and security systems. We work hard to get to the root of the problem and get you back on the road.
Engine Repair, Service and Maintenance
Timing belts and timing chains are the most common major engine service. Every 60,000 miles, it is recommended by most manufactures that you should have these items inspected. If you notice a fluid leak, this is an indication that your engine should be serviced. A major engine failure can be caused by something as simple as a fluid leak. A clean engine is a happy engine. Make sure you get fuel injection cleanings, fluid flushes, transmission flushes and radiator flushes as recommended by the manufacturer. From spark plugs to gaskets, we have you covered at D.A.D.'s.
Exhaust System Repair
If you've ever been stuck in traffic or walked behind an idling car, you have an idea of how irritating and nauseating exhaust gases can be. Without a properly working exhaust system, these fumes and smells can be even more harmful. Your vehicle's emission and exhaust control system dampens the noise made by the vehicle and controls the dangerous gases your car puts out. A healthy exhaust system equals a healthier environment and a quieter car on the road.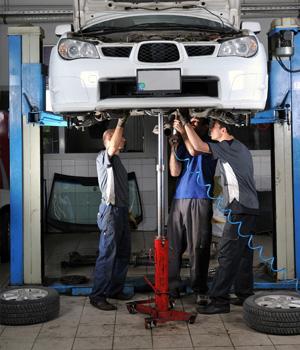 Transmission Inspections, Repairs & Maintenance
When was the last time your transmission was serviced or inspected? A transmission fluid flush is the removal and replacement of the liquid that lubricates parts and maintains a safe temperature within the transmission system. You shouldn't wait around for very long when you need to fix your transmission. This can result in extremely costly repairs. If any repairs are needed, we'll get your car into our shop as soon as we can so we can diagnose your issue and make recommendations for repairs.
Suspension Systems
The suspension system acts as the connection between your engine and the power it generates to the wheels and the impact the road has on the vehicle. Movement and inertia create an incredible amount of force on your car's frame. The suspension system balances the vehicle. If your suspension system isn't maintained, it could lead to a safety hazard. Some potential hazards include premature tire wear, damage to your alignment, excess noises, and vibrations. We have the skills and experience to identify any problems and make necessary repairs in a timely manner.